Analysis of First Quarter 2017
Posted by: Ron Bishop
The worldwide electronics industry has been back on a growth path for the last 12 months. Connector and semiconductor sales are a good telltale of the electronic industry's health. After a contraction in 2015, connector sales have been on a growth path since April 2016, a 14-month run. Semiconductor sales returned to growth in August 2016 and continue to grow, racking up 10 consecutive months of growth. The projections for the remainder of 2017 look good.
The Semiconductor Industry Association (SIA) reported May sales of $31.9 billion, up +22.6% from May 2016 and up +1.9% sequentially. Regionally for May, the SIA reported that the Americas grew +30.5% YOY, China grew +26.3%, Japan grew +15.8%, Asia Pacific/other grew +17.7% and Europe grew +18.3%.
The connector industry sales, measured in U.S. dollars, increased +9.4% to prior year in May and grew +10.3% sequentially. Regionally for May, YOY sales increased +5.2% in North America, +10.8% in Europe, +16.4% in China, +13.9% in Japan, +16.8% in ROW and contracted -1.7% in Asia Pacific.
The following graph compares semiconductor sales performance to the connector industry.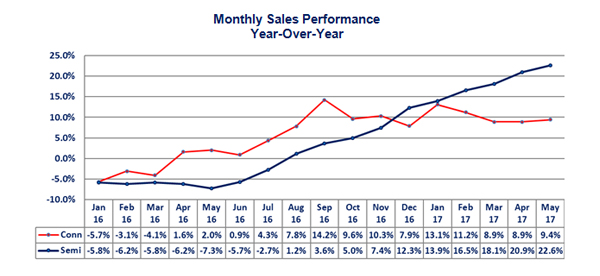 Semis have outperformed connectors for the last six months due to easier comparisons as their downturn started later than connectors.
The first half of 2016 resulted in poor demand for semis and connectors. This makes for easy comparisons for the first half of 2017. However, we expect demand to be strong throughout 2017 sequentially. The first half will probably result in double-digit sales growth for semis and close to that for connectors.
The following table displays year-to-date performance, measured in U.S. dollars, by geographic region for both components.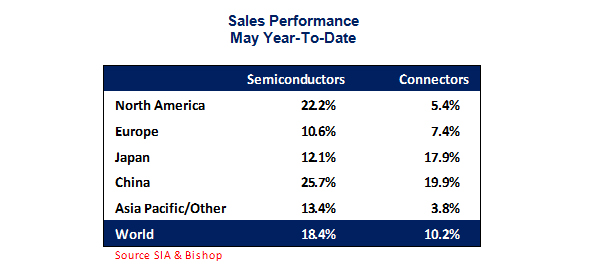 Both components sales performance are tracking closely on a regional basis and in total world sales. China is growing much faster than the other regions for both components which is important to industry health given their high volume of electronics manufacturing. North America is also very strong for semis. After not tracking well in 2015/2016, the sales performance trend of semis and connectors is now back in sync both on a regional basis and for the total world.
High demand for semiconductors always leads to strong connector sales. As noted, we expect the sales results to be moderate in the second half of the year for both components as the comparisons become more difficult. Still we expect solid second quarter and second half demand.
Semiconductors is projecting +11.5% growth for the full-year 2017. Connectors is projecting +7.1% growth for 2017.
Ronald E. Bishop
---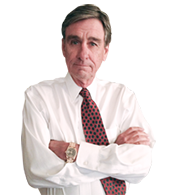 Ronald E. Bishop founded Bishop & Associates Inc., a market research firm that specializes in the world electronic connector industry, in 1985. The firm publishes a monthly newsletter titled "The Bishop Report," and the twice-monthly digital publication Connector Supplier.
The reports, produced by a staff of 20 researchers, focus on geographic regions, end-user equipment markets, connector products, and interconnect technologies.
The firm also provides executive placement services and conducts multi-client studies and customer surveys, and assists in merger and acquisition activity.
View other posts from Ronald E. Bishop.
View other posts from Ronald E. Bishop.