Weekly Global Update for July 19, 2017
Posted by: Walt D. Custer
European Market Remains Strong
Electronic Supply Chain (Chart 1-3)
Based on the recent Eurostat report, production was strong for most of the EU28 electronic supply chain through May. Chart 1 gives annualized and 3-month growth rates for the various electronics related products. The 3-month growth compares March–May 2017 to March–May 2016.
Electronic equipment production (Chart 2) and Instruments (Chart 3) saw good May increases
Leading Indicators (Charts 4 & 5)
Europe's June PMI leading indicators were generally strong. The Eurozone PMI held at a 74-month high.
European Countries ranked by June Manufacturing PMI
| | | |
| --- | --- | --- |
| Eurozone | 57.4 | 74-month high |
| Austria | 60.7 | 76-month high |
| Germany | 59.6 | 74-month high |
| Netherlands | 58.6 | 74-month high |
| Ireland | 56.0 | 23-month high |
| Italy | 55.2 | 2-month high |
| France | 54.8 | 2-month high |
| Spain | 54.7 | 2-month low |
| Greece | 50.5 | 37-month high |
PMI values >50 indicate a manufacturing sector expansion.
Sources: ec.europa.eu/eurostat, www.markiteconomics.com and www.semiconductors.org with analysis by Custer Consulting Group
Worldwide Semiconductor Revenue Forecast to Increase 16.8% y/y to $401.4 Billion in 2017 (Chart 6)
First-Time Semiconductor Revenue Has Surpassed $400 Billion
Worldwide semiconductor revenue is forecast to total $401.4 billion in 2017, an increase of 16.8% from 2016, according to Gartner, Inc. This will be the first time semiconductor revenue has surpassed $400 billion. The market reached the $300 billion milestone seven years ago, in 2010, and surpassed $200 billion in 2000.
"A shortage of memory is creating a boom in the overall semiconductor market," said Andrew Norwood, research vice president at Gartner. "Memory vendors have been able to increase their price for DRAM and NAND, driving revenue and margins higher."
The booming memory market, with revenue forecast to increase 52% in 2017, is expected to shake up semiconductor market share rankings. "As the largest memory supplier, Samsung Electronics is set to gain the most," said Mr. Norwood. "This gives Samsung its best shot at capturing the No. 1 position from Intel for the first time."
Intel dethroned NEC for the No. 1 position in semiconductor rankings in 1992 and has held it ever since. Samsung captured the No. 2 position in 2002 and has held that since.
"What the memory market gives, the memory market takes away," said Norwood. "The memory bubble is expected to go bust in 2019 as memory vendors add new supply and Samsung could lose a lot of the gains it makes this year and next."
Source: www.gartner.com
Worldwide Semiconductor New Manufacturing Equipment Sales Projected to Increase 19.8% to Total $49.4 Billion In 2017 (Chart 7)
$49.4 Billion Semiconductor Equipment Forecast ─ New Record, Korea at Top
SEMI, the global industry association representing the electronics manufacturing supply chain, released its Mid-year Forecast at the annual SEMICON West exposition. SEMI reported that worldwide sales of new semiconductor manufacturing equipment are projected to increase 19.8% to total $49.4 billion in 2017, marking the first time that the semiconductor equipment market has exceeded the market high of $47.7 billion set in 2000. In 2018, 7.7% growth is expected, resulting in another record-breaking year ─ totaling $53.2 billion for the global semiconductor equipment market.
The SEMI Mid-year Forecast predicts wafer processing equipment is anticipated to increase 21.7% in 2017 to total $39.8 billion. The other front-end segment, which consists of fab facilities equipment, wafer manufacturing, and mask/reticle equipment, will increase 25.6% to total $2.3 billion. The assembly and packaging equipment segment is projected to grow by 12.8% to $3.4 billion in 2017 while semiconductor test equipment is forecast to increase by 6.4%, to a total of $3.9 billion this year.
In 2017, South Korea will be the largest equipment market for the first time. After maintaining the top spot for five years, Taiwan will place second, while China will come in third. All regions tracked will experience growth, with the exception of Rest of World (primarily Southeast Asia). South Korea will lead in growth with 68.7%, followed by Europe at 58.6%, and North America at 16.3%.
SEMI forecasts that in 2018, equipment sales in China will climb the most, 61.4%, to a total of $11.0 billion, following 5.9% growth in 2017. In 2018, South Korea, Taiwan, and China are forecast to remain the top three markets, with South Korea maintaining the top spot to total $13.4 billion. China is forecasted to become the second largest market at $11.0 billion, while equipment sales to Taiwan are expected to reach $10.9 billion.
Source: www.semi.org
World PC Shipments Declined 4.3% y/y to 61.1 Million Units in 2Q'17 (Charts 8-11)
Global PC Shipments Decrease for 11th Straight Quarter
Worldwide PC shipments totaled 61.1 million units in the second quarter of 2017, a 4.3% decline from the second quarter of 2016, according to preliminary results by Gartner, Inc. The PC industry is in the midst of a 5 year slump, and this is the 11th straight quarter of declining shipments. Shipments in the second quarter of this year were the lowest quarter volume since 2007.
"Higher PC prices due to the impact of component shortages for DRAM, solid state drives (SSDs) and LCD panels had a pronounced negative impact on PC demand in the second quarter of 2017," said Mikako Kitagawa, principal analyst at Gartner "The approach to higher component costs varied by vendor. Some decided to absorb the component price hike without raising the final price of their devices, while other vendors transferred the costs to the end-user price."
However, in the business segment, vendors could not increase the price too quickly, especially in large enterprises where the price is typically locked in based on the contract, which often run through the quarter or even the year," Kitagawa said. "In the consumer market, the price hike has a greater impact as buying habits are more sensitive to price increases. Many consumers are willing to postpone their purchases until the price pressure eases."
HP Inc. reclaimed the top position from Lenovo in the worldwide PC market in the second quarter of 2017. HP Inc. has achieved five consecutive quarters of year-over-year growth. Shipments grew in most regions, and it did especially well in the U.S. market where its shipments growth far exceeded the regional average.
Lenovo's global shipments declined 8.4% in the second quarter of 2017, after two quarters of growth. Lenovo recorded year-over-year shipment declines in all key regions. Kitagawa said the 2Q'17 results could reflect Lenovo's strategic shift from unit share gains to margin protection. The strategic balance between share gain and profitability is a challenge for all PC vendors.
Dell achieved five consecutive quarters of year-on-year global shipment growth, as shipments increased 1.4% in 2Q'17. Dell has put a high priority on PCs as a strategic business. Among the top three vendors, Dell is the only vendor which can supply the integrated IT needs to businesses under the Dell Technologies umbrella of companies.
Source: www.gartner.com
Global Tablet Shipments Decreased 30.8% to 36 Million Units in 1Q'17
According to International Data Corporation's (IDC) in the first quarter of 2017 as the global tablet assembly industry was affected by factors such as the market off-season, large size smartphones and lengthy product life cycles, shipments only amounted to approximately 36 million units, which was a large slide of 30.8% from the previous quarter and a 12.4% decline from the same quarter in the previous year.
IDC Senior Research Manager Annabelle Hsu stated, "Although the first quarter of 2017 was affected by the market off-season and shipments declined significantly, low priced slate tablets and detachable tablets assembly shipments are on the rise. However, the development of tablet products at the beginning of the second half of 2017 is expected to be polarized."
In terms of shipment numbers, in the first quarter of 2017 tablet shipments from assembly plants in Mainland China accounted for 50% of Slate tablet shipments globally, while the amount of shipments by Taiwanese assembly plants exceeded 30% of global panel shipments. As for detachable tablet, the Taiwanese industry's global volume of detachable tablet assembly shipments slid to 63%, while Mainland Chinese manufacturers' shipments continued to account for approximately 26%.
As for the performance of the individual manufacturers, the top four ODM manufacturers are OCM manufacturers, with the exception of Samsung and Huawei, which have their own brands.
Looking ahead to the second quarter of 2017, IDC estimates that the amount of shipments for tablet manufacturers will continue to be affected by the off-market season and decline globally. In 2017 Slate tablet shipments are expected to continue to feel the impact of large-sized mobile devices development and decline. In the second half of 2017, the detachable tablet market demand is expected to benefit from new product features and technologies and improve significantly. This should also bring about an increase in tablet shipments for the global assembly industry.
Source: www.en.ctimes.com.tw
World IT Spending Forecast to Grow 2.4% y/y to $3.5 Trillion in 2017 (Chart 12)
Worldwide IT spending is projected to total US$3.5 trillion in 2017, a 2.4% increase from 2016, according to Gartner, Inc. This growth rate is up from the previous quarter's forecast of 1.4%, due to the U.S. dollar decline against many foreign currencies.
"Digital business is having a profound effect on the way business is done and how it is supported," said John-David Lovelock, vice president and distinguished analyst at Gartner. "The impact of digital business is giving rise to new categories; for example, the convergence of "software plus services plus intellectual property." These next-generation offerings are fueled by business and technology platforms that will be the driver for new categories of spending. Industry-specific disruptive technologies include the Internet of Things (IoT) in manufacturing, blockchain in financial services (and other industries), and smart machines in retail. The focus is on how technology is disrupting and enabling business."
Source: www.gartner.com
U.S. Industrial Production up 0.4% in June (Chart 13)
The U.S. Federal Reserve reported industrial production climbed 0.4% in June after rising a revised 0.1% in May.
Walt D. Custer
---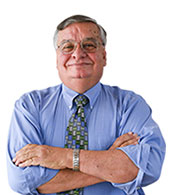 Walt Custer is an industry analyst focused on the global electronics industry. Prior to forming Custer Consulting Group he was Vice President of Marketing and Sales for Morton Electronic Materials, a global supplier of specialty chemicals and process equipment for the PCB industry.
Custer has been a member of the IPC trade organization since 1975 where he received both the President's and the Raymond E. Pritchard Hall of Fame Awards. He is currently a member of the IPC Executive Market & Technology Steering Committee. Custer is also a Director of the EIPC European PCB trade organization.
He authors regular "Market Outlook" columns for Global SMT & Packaging magazine, the Journal of the HKPCA and the TTI MarketEYE website.
View other posts from Walt D. Custer.
View other posts from Walt D. Custer.