Get Ready to Sing Along with The Specialist in this Musical Christmas Video
Fort Worth, TX – December 5, 2017 – You think you know Fa La La La La? In this edgy spin on the classic Christmas carol, "Deck the Halls," familiar to all ages, TTI turns it around to make it their own. Listen carefully as The Specialist and the TTI carolers perform a catchy rendition that chronicles the achievements that took place at TTI this past year. Jimmy Fallon eat your heart out!
Paul Andrews, CEO, delivers a dramatic finish to the video by wishing our listening audience a Merry Christmas and a Happy New Year from the TTI Specialists around the world.
Join the singalong at www.ttiinc.com/thespecialist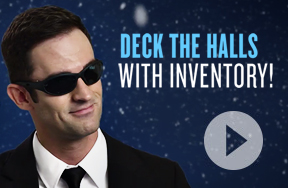 About TTI
TTI, Inc., a Berkshire Hathaway company, is an authorized, specialty distributor of interconnect, passive and electromechanical (IP&E) components and the distributor of choice for industrial and consumer electronics manufacturers worldwide. Broader and deeper inventory, leading-edge products and custom supply chain solutions have established TTI as the leading specialist in electronic component distribution. Globally, the company maintains two million cubic feet of dedicated warehouse space containing over 850,000 component part numbers. Along with its subsidiaries, Mouser Electronics, Sager Electronics, and Symmetry Electronics. TTI employs over 5,400 employees and is represented in over 100 locations throughout North America, Europe and Asia. For more information about TTI, visit www.ttiinc.com