Ask The Specialist Video Features Easy Online Services
Fort Worth, TX – October 6, 2017 – In the latest Ask The Specialist video, The Specialist brings calm to a stressed out buyer and assures him there's no need to panic over placing his bill of materials (BOM) order. TTI's 24/7 online service can be accessed anytime, anywhere and for all the night owls out there, you can order in your PJs, we won't tell.
TTI carries more than 75% of a typical BOM and with TTI's online tools you can upload your BOM in a flash and once a TTI salesperson sets up the account, you'll have secure access to place your order without having to enter your account information; just a little extra service we provide.
Keep Calm and Order from TTI, www.ttiinc.com/thespecialist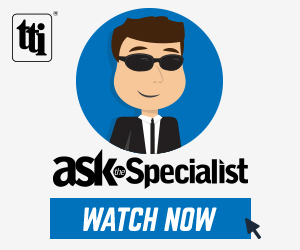 About TTI
TTI, Inc., a Berkshire Hathaway company, is an authorized, specialty distributor of interconnect, passive and electromechanical (IP&E) components and the distributor of choice for industrial and consumer electronics manufacturers worldwide. Broader and deeper inventory, leading-edge products and custom supply chain solutions have established TTI as the leading specialist in electronic component distribution. Globally, the company maintains two million cubic feet of dedicated warehouse space containing over 850,000 component part numbers. Along with its subsidiaries, Mouser Electronics, Sager Electronics, and Symmetry Electronics. TTI employs over 5,400 employees and is represented in over 100 locations throughout North America, Europe and Asia. For more information about TTI, visit www.ttiinc.com